Whether you enjoy soaking in a hot tub alone while you gaze at the starry skies or relaxing with friends while you sip a glass of wine, a hot tub or spa is the ideal addition to your backyard retreat.
These days the terms "spa" and "hot tub" are used interchangeably and they come in many different shapes, sizes, and materials — so before you go and grab your towel and a margarita, let us help you figure out which one is right for you.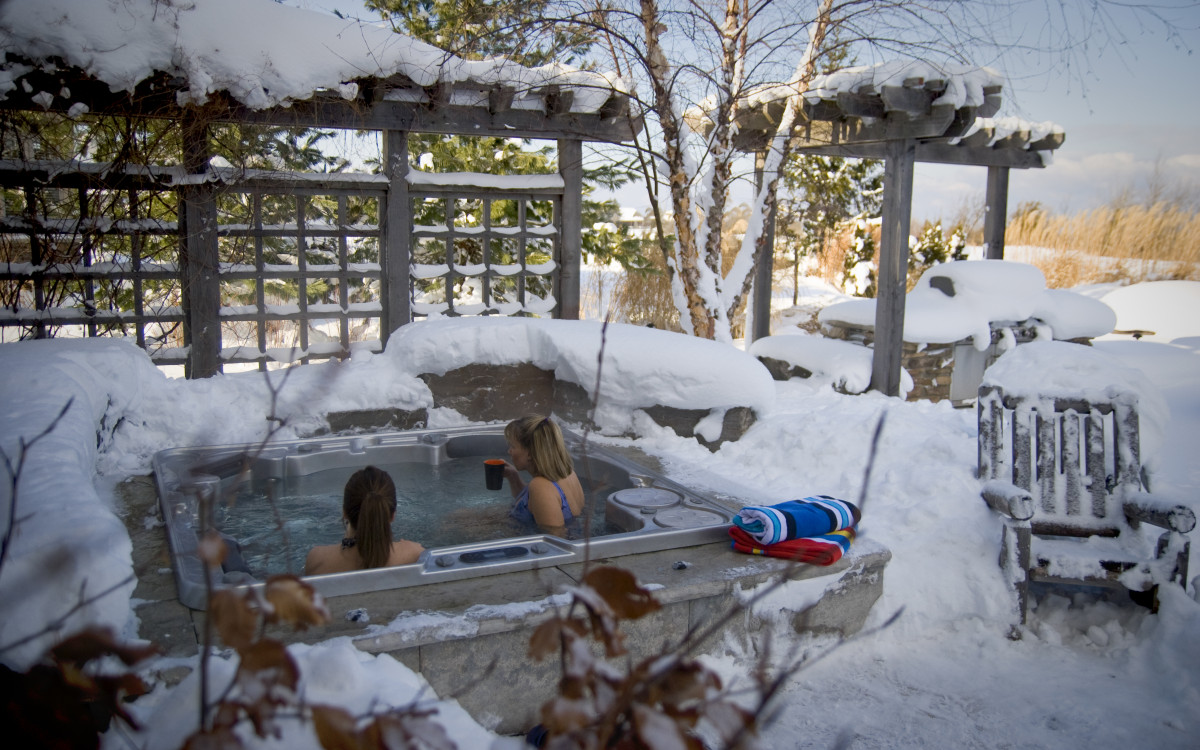 Hot Tubs & Spas: More Than a Luxury
Hot tubs and spas are more than just luxurious indulgences — you'll also enjoy these added benefits:
They bring your family closer together and give you a reason to invite your friends and neighbours over for a visit, enhancing your social relationships.

The buoyancy of the water reduces pressure on the joints and muscles to decrease pain and increase mobility.

The heat increases your heart rate, providing your heart muscle with a low-stress workout.

Increased endorphin levels can help regulate your mood (it's hard to be cranky in a hot tub!)

Regular hot tub use can increase the quality of your sleep so you wake up refreshed, invigorated and ready to tackle your day.
The Four Main Types of Hot Tubs and How to Choose Yours
Picturing yourself relaxing in your hot tub is easy — and we've put this guide together to make choosing the right one easy too.
1. Above-Ground Hot Tubs: Easy to Install, but Limited by Size, Shape and Materials
Most people have an above-ground, or "portable" spa. These spas are easy to install and only require a 240-volt outlet, and most of them can be moved to a new location (although they're heavy and difficult to maneuver).
If you love gadgets, you can add all sorts of features to this spa — such as LED lighting, stereo systems, cup holders for your cocktails, and as many as 100 jets so everyone can get a relaxing, hydra-massage.
Above-ground spas are usually installed closer to the house than their in-ground counterparts — so you don't have to worry about dashing over cold concrete to warm yourself on a chilly evening.
Everyone will love the smooth-contoured seating (suitable for people of all sizes) and if you're soaking solo you can add a cover lifter to make it easy to remove the cover on your own.
You're limited to the size, shape and materials available from the manufacturers so custom designs are not available. Plus, they're not quite as pretty as in-ground spas — unless they're artfully installed by a professional landscape designer.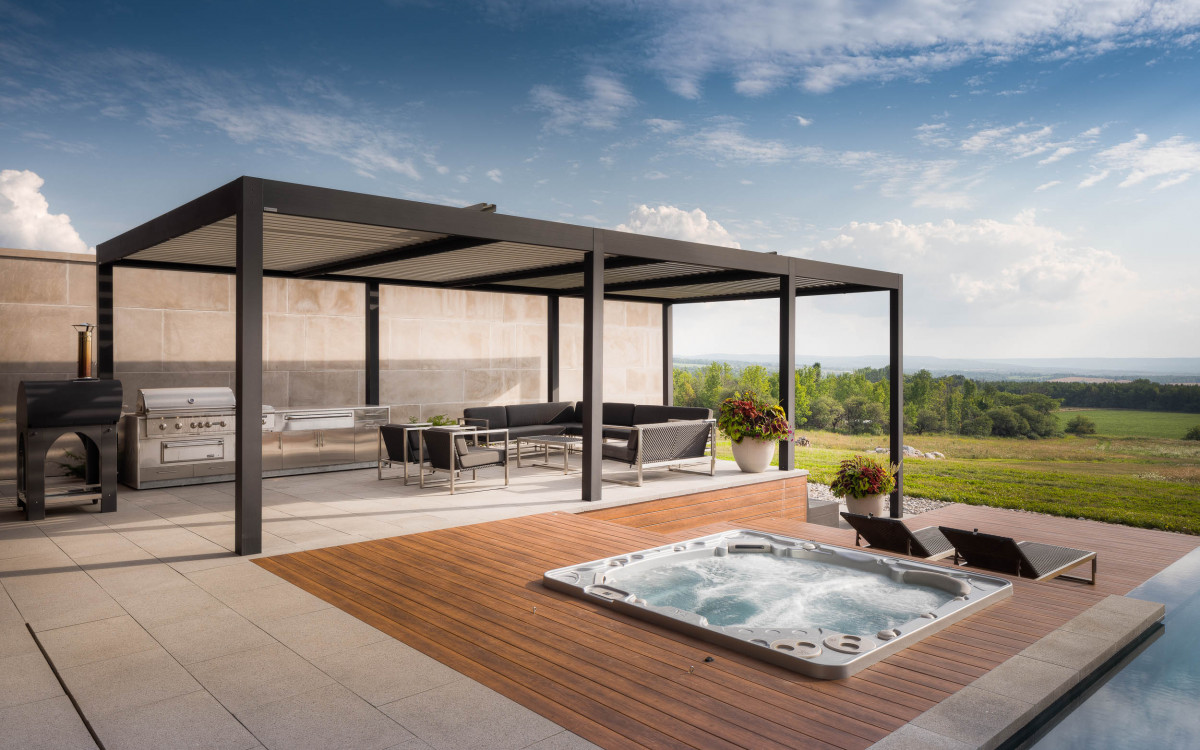 2. In-Ground Hot Tubs: Fully Customizable
Because they're custom-built to match your pool, in-ground spas are aesthetically pleasing. You can choose from a variety of materials — such as stone, concrete and tile — and they'll blend in with any decor.
You're also not limited by size or shape, and they can be installed flush with the deck or partially exposed for a sunken effect.
Like above-ground hot tubs, you can add additional features such as speakers and lights — even fountains and waterfalls. They typically have fewer than 20 jets, so while you'll still get a great massage, it won't be as vigorous as one you'd get from an above-ground spa.
This style of hot tub takes longer to install and requires more maintenance than the above-ground variety, and they're often situated near the pool, which is further from the house. Not ideal when you want a quick dip in the middle of winter!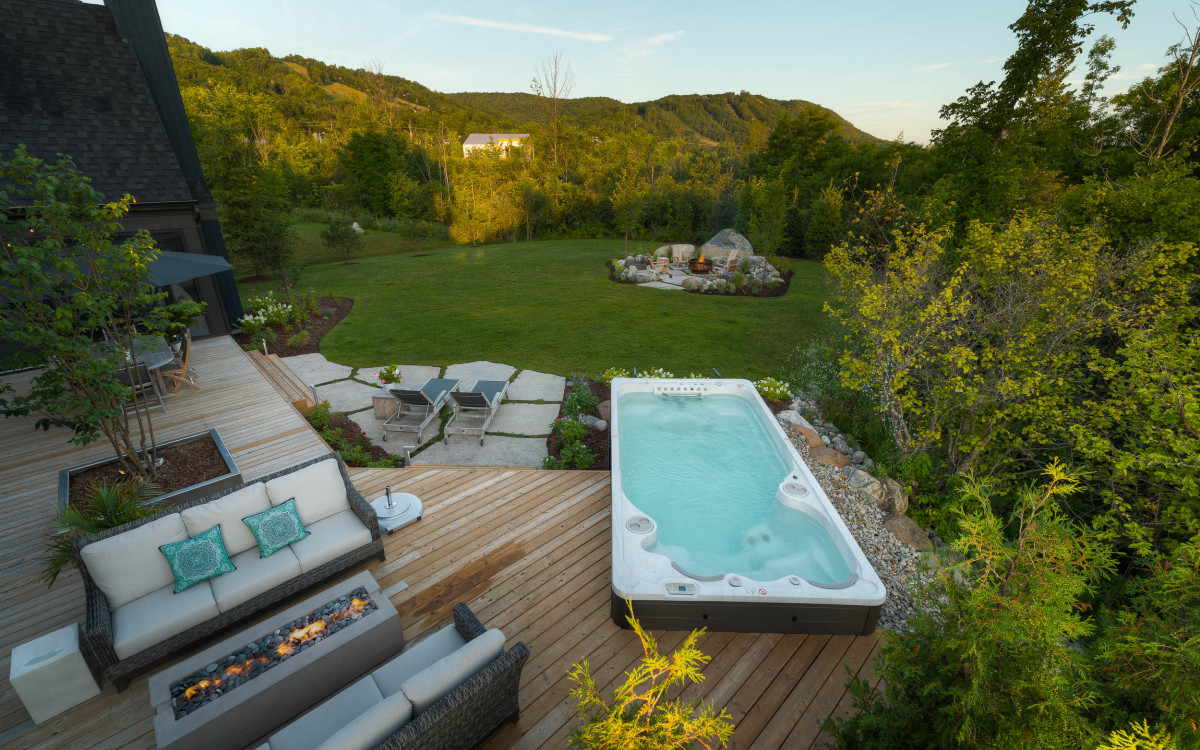 3. Swim-Spas: Extend Your Swimming Season
Most swim-spas come equipped with all the features of a regular spa — including lighting, jets, moulded seating, and control panels — as well as offering the exercise benefits of a swimming pool.
Powerful jets at one end create a powerful stream of water that adds resistance, so you get a highly effective workout without breaking a sweat — plus the buoyancy of the water takes the stress off your joints.
Unlike pools, swim-spas are insulated against the cold and have their own built-in heaters, allowing you to get your workout in even in the colder months.
They're also much bigger than regular spas — so next time you host a party no one has to be left out of the fun!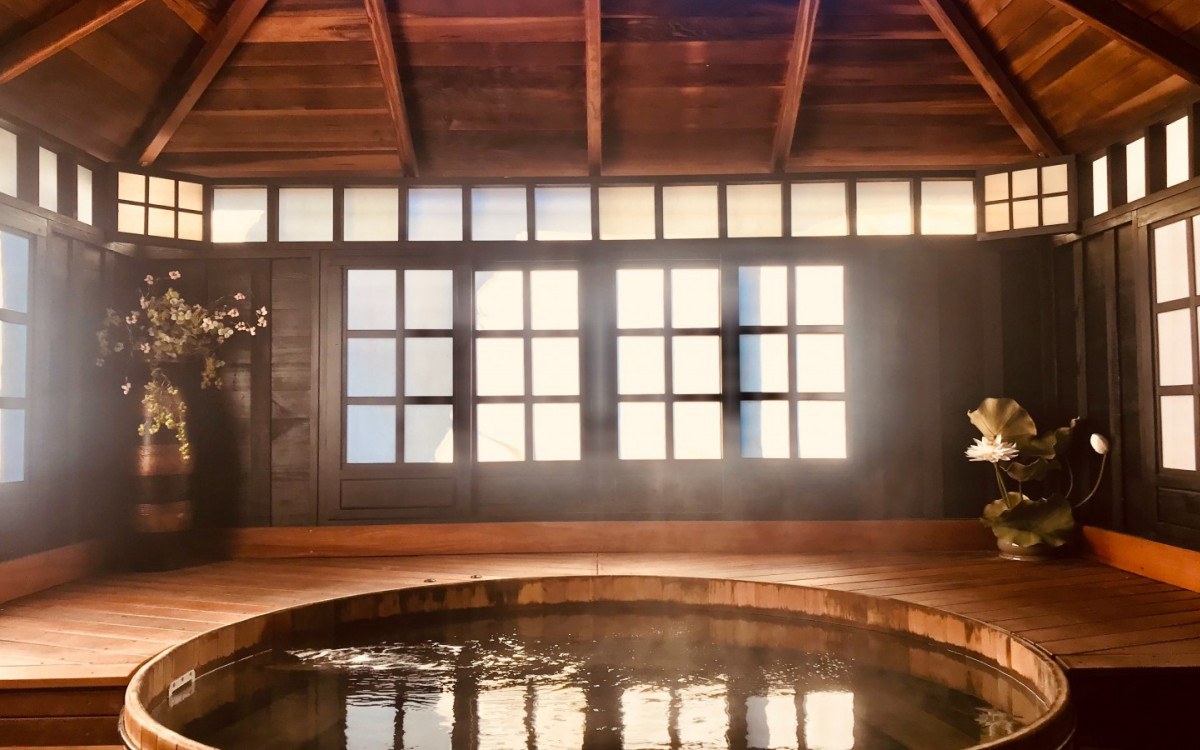 4. Wooden Hot Tubs: Rustic Beauty
If being surrounded by natural materials is important to you, then a hot tub made from redwood, cedar, oak, or teak will fit beautifully into your landscape design.
In addition to its rustic charm, a wooden hot tub gives you the added benefit of aromatherapy — enveloping you with its wonderful, natural scent.
These wooden classics are not without their drawbacks, however.
Compared to their acrylic cousins, wooden hot tubs are decidedly low-tech — so if you're into having all the latest bells and whistles, they might not be your best option.
And your wooden hot tub won't have comfy bucket seats and molded headrests — so keep that in mind when making your choice as well.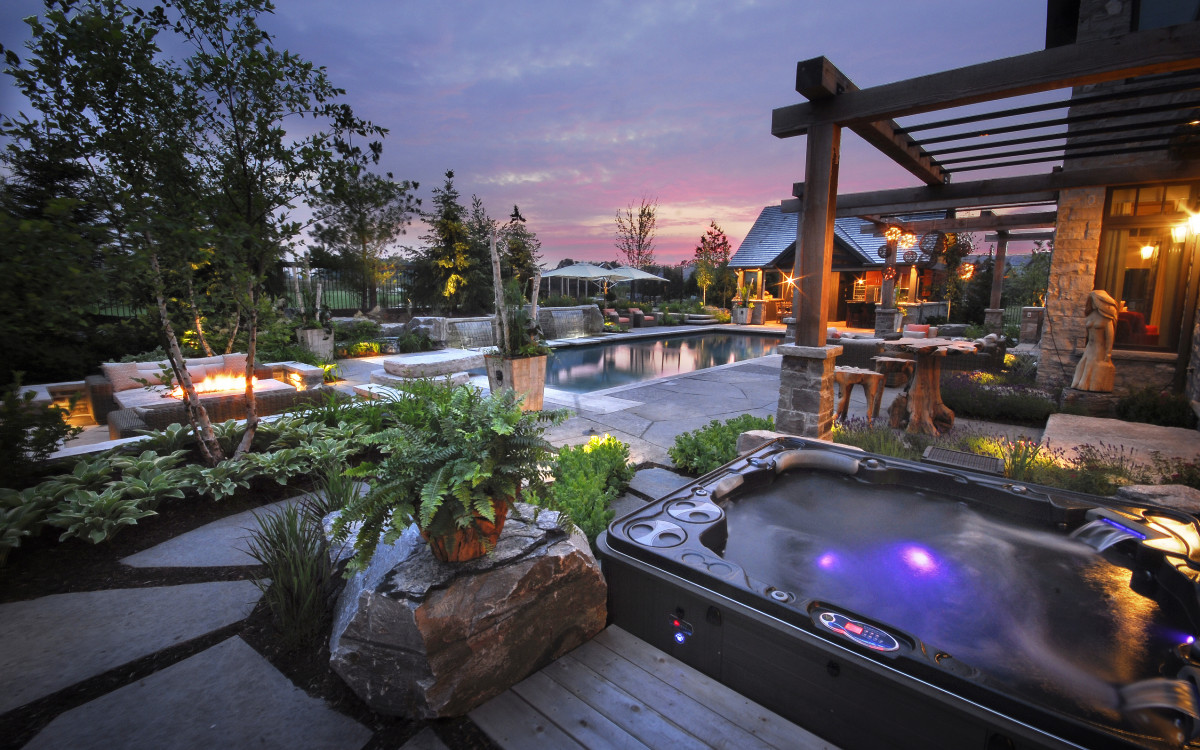 Make Your Hot Tub High-Tech
If you love gadgets and want to dial up the "wow" factor of your hot tub up a notch, you can add some (or all!) of these great features:
A built-in sound system so you can chill with some soft jazz or rock the night away without having to worry about your equipment being damaged (or the dangers that come from mixing water with electricity).

LED lighting to create an atmosphere of pure magic to the steaming water and bubbly jets — perfect for fun, relaxation and quiet conversations.

A wireless TV screen to broadcast your favourite shows from your home — turning your hot tub into a luxurious, aquatic cinema.

The only thing worse than knocking over your drink is knocking it over into your hot tub (or having it smash onto your decking). Include cup holders in your design to keep drinks securely in place.
Whichever you choose, a high-quality hot tub can improve your life in many ways — from soaking away stress and relaxing sore muscles to turning your backyard into a party paradise for fun with family and friends.
If you're on the Georgian Bay coast and have been inspired by the spa designs we've created for our past clients — and you'd love some help planning your own spa — we'd love to hear from you. You can reach out to our team by phone or email or by filling out our online form.